On the off note, I hate Elephant Ears. I used to eat them when I was little. We'd get them every time we went to Canada's Wonderland and when we went to fairs. I can't eat them now, even the smell makes me feel sick. So, alas, I have not had one for years. Same thing with funnel cakes. Totens (I'm not sure how you spell it exactly) are still okay though...Probably because their is a lack of sugar...
I really have no idea why I'm rambling on about food but...Poutine is awesome sauce incarnate. If you've never had it before make some. I'll give you the recipe. Ready? Gather some straight cut fries, cheese curds, and gravy. Cook the fries and make gravy. Place fries in bowl (or on a plate). Put cheese curds on top of fries. Pour gravy over cheese curds and fries. Eat and enjoy. There you have it. And here is a picture:
Creme Brulee is also delicious: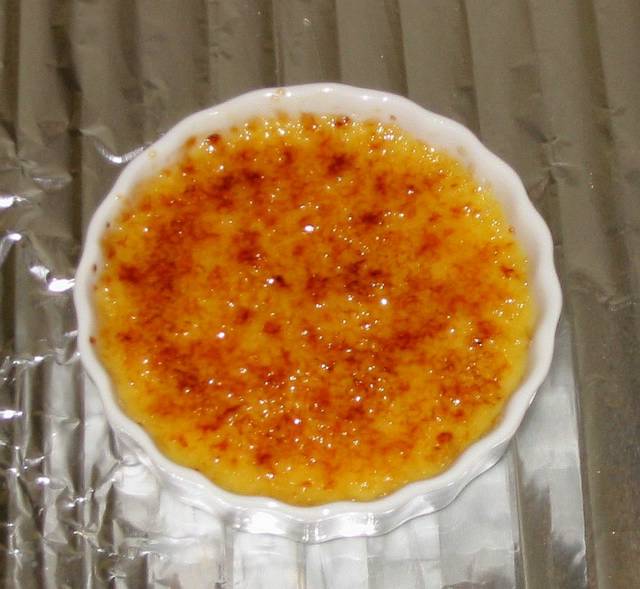 Crepes:
You've probably seen those before...And eaten them. I beg pardon but I'm bored...and slightly tired. I'm not sure why I won't just go to sleep, but...
So, on to other things. This week we dissected piglets in Biology class. This is what the little piggies looked like (not my pictures mind you):
We (my group) had a female pig. I named her Mary Shelley. It was appropriate, or at least I thought so. We didn't end up opening her mouth as wide as the pictures though. By the way, the smell was worse on day two. The first day wasn't that bad, the second day wasn't horrible either...it was just slightly worse.
So we basically cut her open on day one, and gutted her on day two. We had to at the very least cut out the small intestine to measure how long it was (roughly 3m), but we took out the other bits to get a better look. (The lungs and heart are very interesting).
The pigs had a tendency to, well, squirt juices and stuff when you'd cut some places and try to open them. My one partner got what I'm dubbing as spleen juice in his eye. "Twas very funny indeed.
This week they also cancelled one of my classes so now I'm going to be taking sociology next month. That should be interesting.
Now I'm going to put up scenes from some of my favourite stuff...
Kuroshitsuji (Black Butler) AMV (Sums up the "feel" of the show):
Fullmetal Alchemist:
I love FMA...
Hmm...
Blessed be,
Miss Mary Hiashi